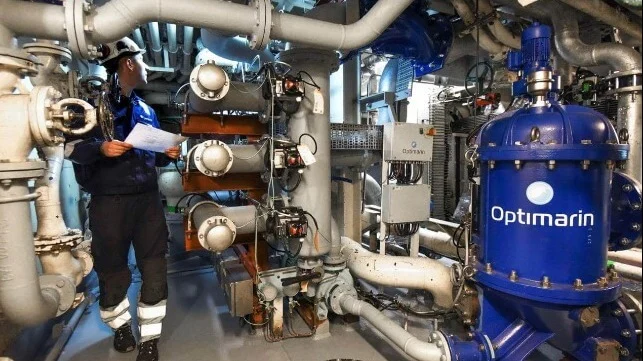 "Service is the backbone of the ballast water treatment industry and is vital to the smooth operation of vessels," says Optimarin's Vice President of Services, Arild Stølen.
Installing a well-functioning Ballast Water Treatment System (BWTS) on board has become a hot issue after commissioning tests became mandatory from 1 June this year under the rules of IMO.
These tests, which require sampling of ballast water at the discharge line after treatment by the system to ensure that it meets the so-called D-2 standard, are necessary to obtain an international ballast water management certificate. .
And that document will essentially be an operating license once the IMO's Ballast Water Management Convention comes into force from September 2024, according to Stølen.
Additionally, testing is also mandatory with an additional commissioning survey after a major change, replacement or repair of the BWTS to achieve full compliance with the D-2 standard.
Risk of non-compliance
"It's one thing to install a compliant system and quite another to have it working properly wherever a ship is ballasting, including in ports with variable water quality," says Stølen. .
"To date, few vessels have operated their BWTS consistently over time. Therefore, a system may not perform properly or as expected for several reasons, which may result in non-compliance. »
So what are the key factors to mitigate non-compliance risk and ensure maximum BWTS availability to minimize costly outages and delays at ports? "It's all about system reliability and consistent support through a global service network," he explains.
Norwegian ballast water treatment specialist Optimarin, a pioneer in this sector with approximately 1400 systems sold to date worldwide, has recognized this need by establishing a global network of service partners with dedicated engineers trained by BWTS and specialized in maintenance of its systems.
Global Service Network
This service network truly spans the globe with locations in the United States, Brazil, United Kingdom, Norway, Germany, Spain, Netherlands, Romania, United Arab Emirates, China, Japan, South Korea, Singapore and Taiwan.
Additionally, the company has training centers in Norway, Manila and Mumbai with a full-scale BWTS as part of the Optimarin Academy to train the crew to ensure the system operates safely. and efficient on board.
Specialized certified engineers are readily available to provide round-the-clock support to Optimarin customers, wherever a vessel is and whenever help is needed.
This underpins the company's service-oriented approach and good communication with customers, which means 24/7 availability to provide a quick response, combined with a comprehensive warranty program that gives customer peace of mind throughout the life cycle of BWTS.
Fast parts delivery
Optimarin has a centralized service center at the head office in Stavanger, Norway, which maintains regular dialogue with customers to provide after-sales support.
The center manages the worldwide distribution of spare parts, with satellite warehouses in several locations outside of Norway to allow faster response time for parts shipments, and coordinates service and commissioning work to be carried out by Optimarin engineers worldwide.
The so-called Optimarin ballast system is based on a simple and reliable design with few moving parts and a self-cleaning UV chamber combined with self-rinsing filters, thus requiring minimal maintenance and guaranteeing operational reliability.
The system uses standardized components for all throughput configurations and all UV spare parts can be used for any capacity of the system, allowing for simple supply and logistics, especially for large fleet operators, with easy access to spare parts such as UV lamps and filter elements.
Additionally, the component-based system's modular design makes it highly configurable and flexible for different vessel configurations and easy on-board installation.
Digital support
Optimarin has recently enhanced its service offering with OptiLink™, a cloud-based digital solution for BWTS monitoring and management that enables 24/7 remote support and over-the-air software updates so that the system continues to operate effectively.
"A service is no longer an option with a BWTS but an essential factor in keeping your fleet compliant and on track. You will not be able to operate efficiently without it," concludes Stølen.
Did you enjoy this article?